Senior Technical Support Engineer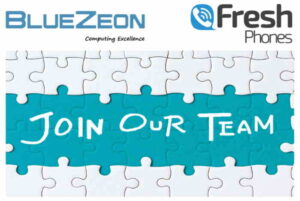 Are you looking for a new challenge, striving to deliver the best customer service and hungry to learn new technical skills?
As one of the leading outsourced IT Solution providers, Bluezeon a Microsoft Gold accredited partner prides itself on delivering the BEST customer service and IT Support for our Clients to help them thrive.
We would expect you to own, handle and resolve 10 – 20 support requests per day until completion and to check back with customers to make sure we have exceeded expectations to uphold Bluezeon's reputation for delivering the BEST technical solutions and support in the area.
You would be joining a strong, experienced, qualified, and professional team that encourages each other to learn and develop in all key technical areas. We provide in-depth training so that you would become a technical expert in your field, and we would also help you gain additional qualifications as you grow within the business to keep you at the sharp edge of IT.
Candidate Requirements
▪ Excellent communications skills (Written and Verbal) with a keen eye on detail and a can-do attitude is a must
▪ Experience with Windows 10, Windows 11, Windows Server 2019, Mac OS
▪ You will have attained at least 2 Microsoft Technical Certifications
▪ Experience with Installing, Upgrading and Troubleshooting Microsoft Office 365 Packages (Word, Excel, Outlook etc 2016, 2019)
▪ Outstanding Customer service skills, creating relationships and building a strong rapport with our Clients
▪ Experience Supporting Microsoft SharePoint, OneDrive
▪ Microsoft Azure or Amazon Web Services (AWS) administration and Support
▪ You will have a minimum of 2/3 years' experience in an IT Support/role
Roles and Responsibilities
▪ Deliver exceptional IT Support over the phone, via email and in-person
▪ Build and configure new Computers/Laptops running Windows 10/11
▪ Build new Cloud servers hosted in Microsoft Azure and Amazon AWS
▪ Provide support of Cloud-Based Servers running Windows Server 2012/2019/Linux
▪ Complete performance and hardware diagnostics on Windows and Macs
▪ Office 365 Deployments, Management and Administration (Including Microsoft OneDrive and SharePoint)
▪ Website Hosting Management and Migrations (Plesk, FTP, WordPress, PrestaShop)
▪ Application Support – Sage Accounts, Sage Payroll, Act, Xero, Dropbox
▪ Setup and support 3CX Cloud PBX VoIP Phone systems
▪ Configuration and Troubleshooting of Printers and Scanners
▪ Installing, configuring, and supporting Switches/Routers/Firewalls/Wi-Fi (Draytek, Cisco Meraki, Ubiquiti etc) V-LANs, DHCP, VPN's, DNS
▪ Setup, Support and Configure Online Cloud Backup Solutions, Disaster Recovery
▪ Domain Management and Support, Configuring DNS and transferring Domains between registrars
▪ Manage, Monitor and Protect Systems using our RMM system
▪ Deploy, Manage and Monitor Security Systems Bitdefender, Sentinel One EDR.
The role is based in Milton Keynes, the candidate must hold a full driving license and have their own car as travel to Client sites will be required from time to time.
Salary would be between £24,000 – £32,000 per year depending on qualifications and experience, 8 hours per day, Monday – Friday.
If you want to join us in delivering exceptional IT support, then please send a covering letter and a recent copy of your CV to [email protected] to apply.
If you are looking for an exciting role with Bluezeon. Don't hesitate to get in touch today

LET US MANAGE YOUR IT FOR YOU, SO YOU CAN GET ON WITH WHAT YOU DO BEST